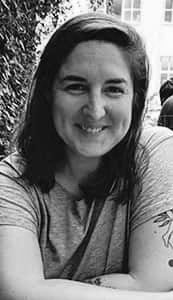 Florencia Vilardebo
Graphic & Motion Designer
Software:
After Effects
Illustrator
Photoshop
Florencia is a motion & graphics designer born in Buenos Aires, in the mid 80s.
She's always been obsessed with movements and (solving) problems. Through the years, she has loved math, ballet, photography, graphic design and her true love: motion graphics.
She has studied photography, graphic design and has been in the industry for the past 10 years. She has studied in schools, courses, seminars, self-taught, watched over a million tutorials and went to university.
She's been defined by her closed ones as brave and tenacious but sensitive and funny.
She's currently based in berlin.
hello@m-a-p.berlin
+49 (0) 173 288 27 05